Week of 8/21/17
CEO Business Visits
CEO Guest Speakers
---
Great way to start the year
Bill Ecker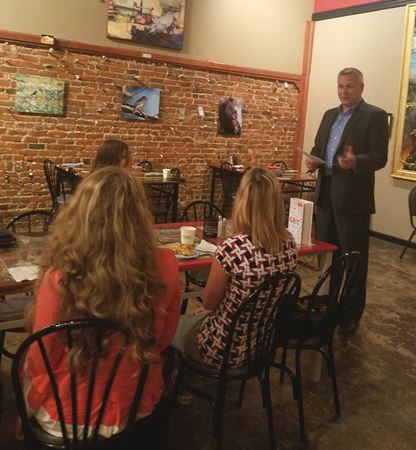 Bill Ecker with State Farm Insurance helped us kick off the 2018 Union County CEO Program at Brick House Grill.  Professionalism was the topic of the day. We even practiced handshakes and discussed theories of what different  hand shakes meant.   Bill shared his story of studying abroad and the path that lead him back to Union County.  
---
Union County Fair
Union County Fair
Our first business visit was to the Union County Fair.  Marilyn and Mike Meisenheimer discussed the business of the fair with us and also gave us a behind the scenes tour. We were all very surprised in the amount of work that goes into putting the fair together each year. 
---
Building an amazing team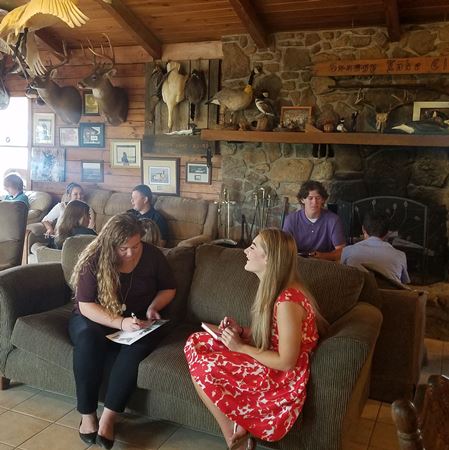 Team building is an important part of CEO!  In no time we will not be Connor Allen, Zoe Fuhrhop, Alejandra Lopez, Grace Pitts, John Russell, and Grace Schroeder from Cobden; Cheyenne Thorn from Shawnee Hills; and Megan Rhine, Alex Rogers, and Bryce Osman from Anna-Jonesboro.  Instead we will identify as CEO Team 18 from Union County.
---
Student Journal Highlights for this week
On Bill Ecker, guest speaker   I thought it was interesting to see that Bill had other plans for what he wanted to do, but ended up becoming succesful with insurance. 

Megan Rhine
Tuesday, August 22, 2017Learn More About Megan
On the fair tour:  I found that the fair has a lot more complexity than I had expected. I always thought that it was very simple such as rides, vendors and animals. I never thought of all the money and time that had to be put into the fair.  I didn't realize that they would have to pay so many bills and cover so many things with insurance. 

Bryce Osman
Wednesday, August 23, 2017Learn More About Bryce
 On doing team building exercises: I was afraid that I was going to be really nervous with the rest of the class, but the ice breakers have really helped. 

Zoe Fuhrhop
Friday, August 25, 2017Learn More About Zoe
---